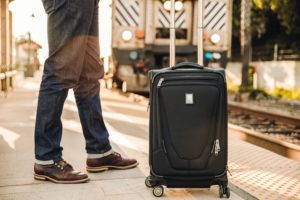 Do you know that it is never a good idea to travel with a wheelie suitcase? If you are new to travelling better ditch that type of suitcase and just go for an ordinary backpack.
But why shouldn't you use a wheelie suitcase since you really do not want to carry all your thing behind your back all the time? Well, simply because you really do not know how are the sidewalks to the places you are going to visit and if you are really unfortunate, your fancy suitcase with wheels may become an extra burden for you instead of providing you ease.
When should you use wheelie suitcases?
If you know you will be spending most of your time in wealthy countries, in hotel lobbies, and you know the place where you are going has a lot of good sidewalks, then, by all means, bring your rolling suitcases. In case you are going somewhere cheap and you will be moving a lot, then just bring a backpack.
If you are travelling like a backpacker, then play the part and bring your backpack.
Keep this in mind that in some Asian countries and in Latin America, sidewalks are mostly used for parking, or for food stalls to be placed in, or store boxes, or to just run a business. As much as their government would want to use the sidewalks for walking, but in most cases, they are not used for that purpose.
There are some instances that you may also encounter bad sidewalks and country roads which will make using a rolling suitcase difficult.
As much as you want to be comfortable while travelling, make sure to check the place where you are going. If you are travelling from the airport and will be getting the taxi straight to your hotel and the same when you go back, then you can bring your wheelie suitcase otherwise, just bring your backpack to travel easily.